Rugby League World Cup 2021: BEC team members #BackTheBid
BEC team members took time out today to share their support for Allerdale Borough Council's bid to host Rugby League World Cup 2021 (RLWC) matches in Workington.
Posing for photos in the Cleator Moor HQ boardroom, the BEC team gave a big thumbs up to the bid.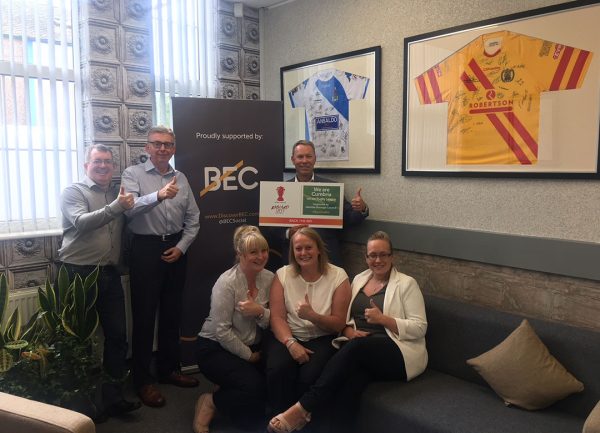 More about the Bid:
The Council has launched its Cumbria-wide 'Back the Bid' campaign this month to encourage local people to support the bid, which has the potential to bring over £2.4 million into the local economy.
Councillor Alan Smith, Leader of Allerdale Borough Council, said: "This is a very exciting prospect for Allerdale and Cumbria as a whole. It is the heartland of Rugby League and it is embedded in the local community. We want to engage and inspire people through the Rugby League World Cup, and we want to break down barriers to ensure the sport is accessible to all. The leisure centre in Workington is proof that we can increase participation for local people of all ages and abilities, and we want to build on that legacy."
Successful bids are to be announced in November and the Council would then enter into negotiations regarding a host city agreement. If you'd like to show your support, be sure to post your rugby-themed photos on social media using the hashtag #BacktheBid.
https://www.allerdale.gov.uk/en/news-and-blog/help-us-back-the-bid-for-the-rugby-league-world-cup-2021/