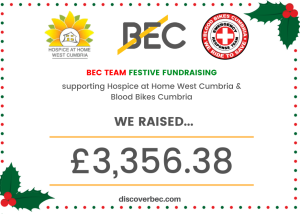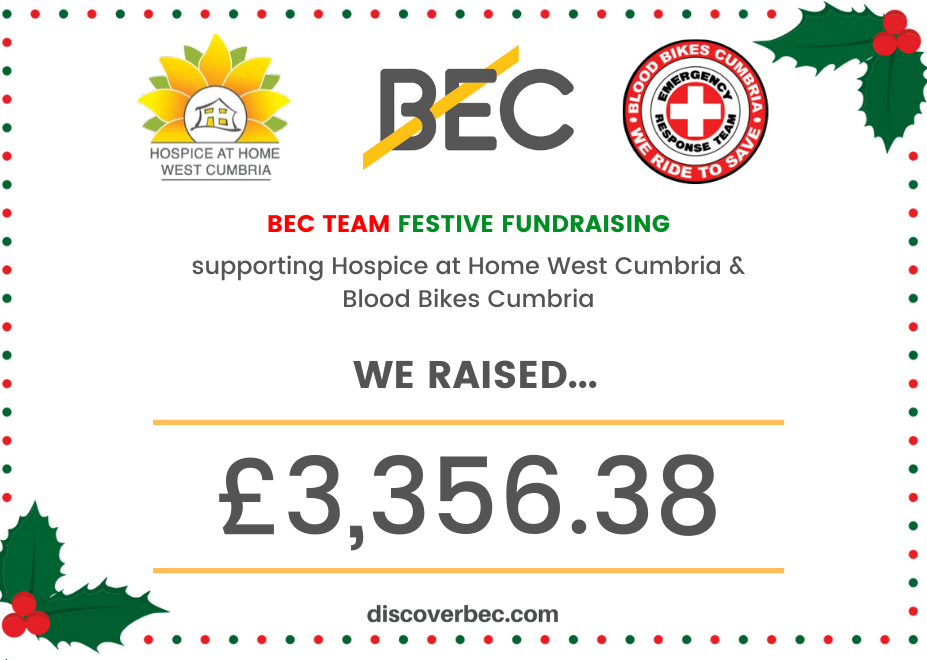 Hospice at Home West Cumbria and Blood Bikes Cumbria named as beneficiaries in 2019 annual fundraiser.
The BEC team has raised £3356.38 for two local charities this festive season.
BEC's annual fundraiser, now in its third year, sees team members select two local charities to focus on fundraising over the festive period.. The team donations are matched by the company and equally donated to both charities.
These fundraisers are part of Giving: BEC, where the company supports local community organisations. This year has seen more than 15 local community organisations benefit from over 75 hours of the team's voluntary time, in-kind advice and support from the Cumbria Exchange that BEC is a partner of.
Bringing together employees from all sites in the BEC estate – including Westlakes Science Park, Derwent Howe, and the Cleator Moor HQ – this year's efforts will benefit Hospice at Home West Cumbria and Blood Bikes Cumbria.
Hospice at Home West Cumbria provides high quality, palliative and end of life care to people living in West Cumbria. Blood Bikes Cumbria provides a medical courier service to deliver essential blood and urgent medical supplies out of hours for the North Cumbria University Hospitals NHS Trust.
For the third year, Adam Phillips, BEC's Community & Energy Officer and Management Trainee Rachel Murray, have led the charitable fundraiser internally as part of BEC's community support initiative Giving:BEC.
Adam commented: "We are thrilled to support our two chosen charities: Blood Bikes Cumbria and Hospice at Home. During the festive period, we helped raise £1678.19 for each charity and we are excited to continue our support for them through 2020"
Rachel added: "Christmas is seen as the happiest time of the year for many people however is it important to remember that others are not so lucky during this time. We should look to share our good fortune and bring joy where we can."