Sellafield Ltd and BEC collaboration will bring dynamic new space and support for fledgling firms
13th May 2019: Whitehaven is soon to have a business incubator to rival the UK's biggest cities.
Thanks to a bold collaboration between Sellafield Ltd and local profit-for-purpose developer BEC, plans have been created for a new facility that will sit next door to – and complement – the forthcoming Buzz Station development at North Shore.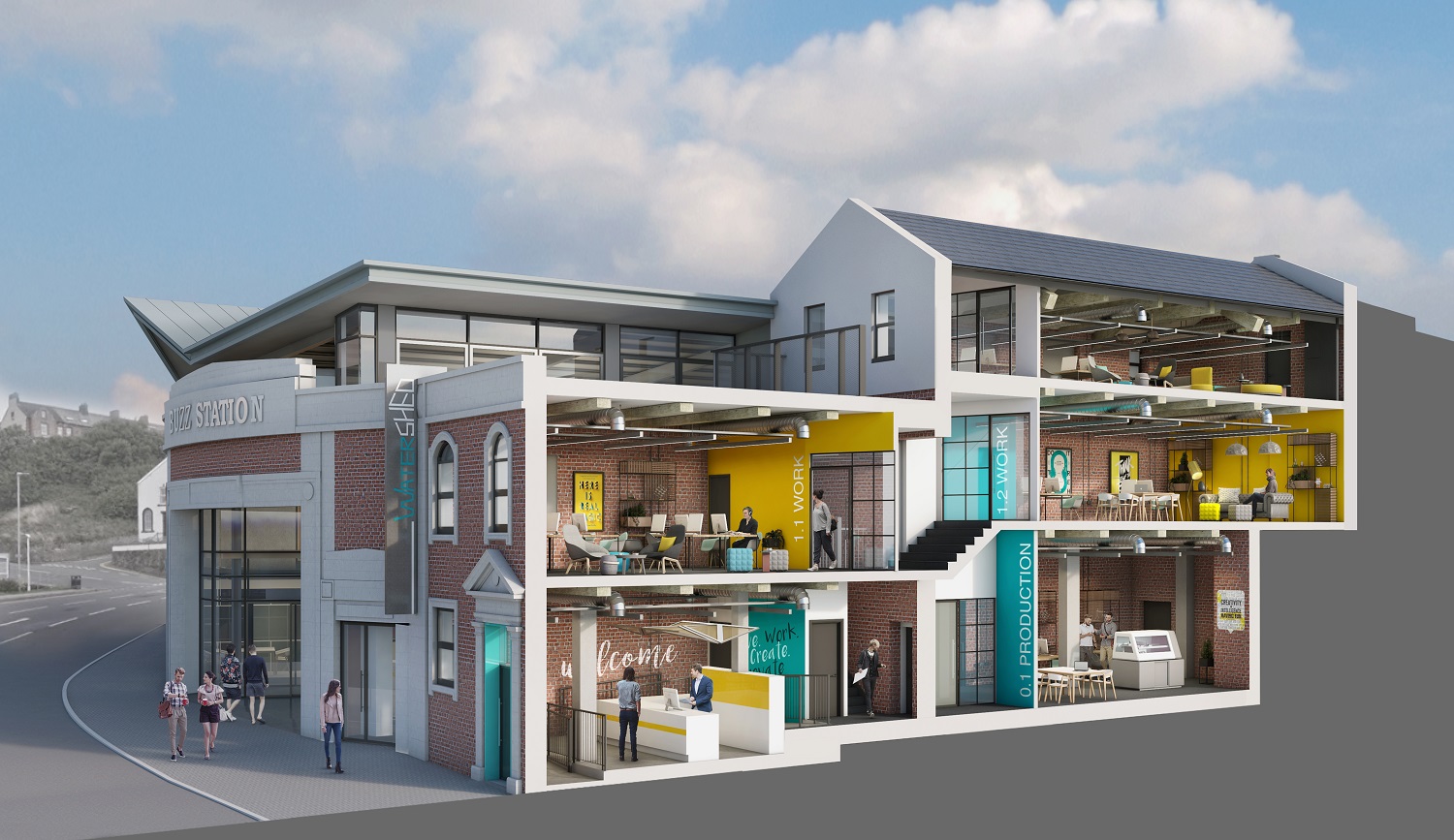 The new site, which will open at the same time as the Buzz Station, will support pre-start companies, or those in the very early phase of development.
The 24-hour access Watershed will house:
Co-working space: Dynamic and functional hot desk space available on a membership or pay as you go basis. This not only allows small businesses to access flexible work space but also supports enterprises of any size to have a presence in the building and therefore in Whitehaven. Rent a presence not a desk!
No wall connectivity: The Watershed will remove barriers which stifle opportunities for businesses to innovate, collaborate and grow. Through the use of high-speed connectivity and cutting-edge shared facilities, the Watershed will allow business to communicate on a different level – companies using the space can hold a virtual meeting or check out a shared camera to update social media or broadcast presentations.
A digital manufacturing facility: Through the use of a maker space, firms will be able to make a range of items – from a sample of client-branded products or a 3D prototype of an innovative wind energy turbine system to promote and sell to investors. 3D printers and laser cutters are only some of the facilities on offer to take ideas and business to the next stage (and beyond).
Co-located business support functions: Through the dedicated business development ecosystem, the Watershed will provide support and guidance to scale your idea through to a sustainable business. Via an in-house team, the Watershed can help develop leaders in areas such as finance, marketing and technology as well as assist to create opportunities with new clients, projects and markets.
The Watershed will occupy a 2,715 sq ft site next to the old Bus Station that used to house the old station offices and has been vacant for nearly 20 years.
The project is based on creating new fledgling businesses and helping new business owners to develop their ideas into commercially successful entities, driving economic development and diversification in Copeland and West Cumbria. The business support on offer is intended to drive new business ideas, create growth and deliver greater incomes from a wide range of sectors.
Sellafield Ltd and BEC have developed the concept for the Watershed in collaboration as a response to the changing needs of new start-up companies and a desire to provide world-class, idea shaping facilities in Whitehaven.
BEC CEO, Michael Pemberton, said: "With co-working becoming the norm, the space in which new firms grow fledgling ideas is morphing from the solitary four walls of a one or two-person office to the lively arena where founders bounce ideas off each other and multiple ideas are shaped in tandem."
Gary McKeating – Sellafield Ltd's Head of Development & Community explains why the decommissioning nuclear site is partnering with BEC and investing £996k to bring the Watershed to life: "The new development will represent an important project in helping to facilitate the Social Impact and Transformation Strategies of Sellafield Ltd. The facility will allow collaborative work space to be developed which will be designed to encourage spin-out and start-up companies from both existing Nuclear organisations and the wider economy."
"We are a region of great thinkers," commented BEC's Head of Property & Development, Rob Miller. "The Watershed vision is to support individuals from the daunting initial steps on the decision of a new future through to being able to stand sustainably on their own two feet with a viable future ahead; from idea and incubation to launch and beyond. We hope it will bring about many 'watershed moments' for new local businesses as they move from idea to reality."
BEC will announce the construction partner for both the Buzz Station and Watershed next week as a competitive tender closes.
The North Shore scheme was recently shortlisted for two national Planning Awards.
This new phase is part of a £1.1m extension to the Buzz Station scheme. The Buzz Station is a £4.1m scheme in which Sellafield Ltd have invested £2.6m.
Sellafield Ltd and the Nuclear Decommissioning Authority (NDA) are providing £996k for the Watershed via Sellafield's social impact budget.