New outdoor education activity at Westlakes for schools and public to boost understanding of Science, Technology, Engineering, Arts and Maths (STEAM) subjects.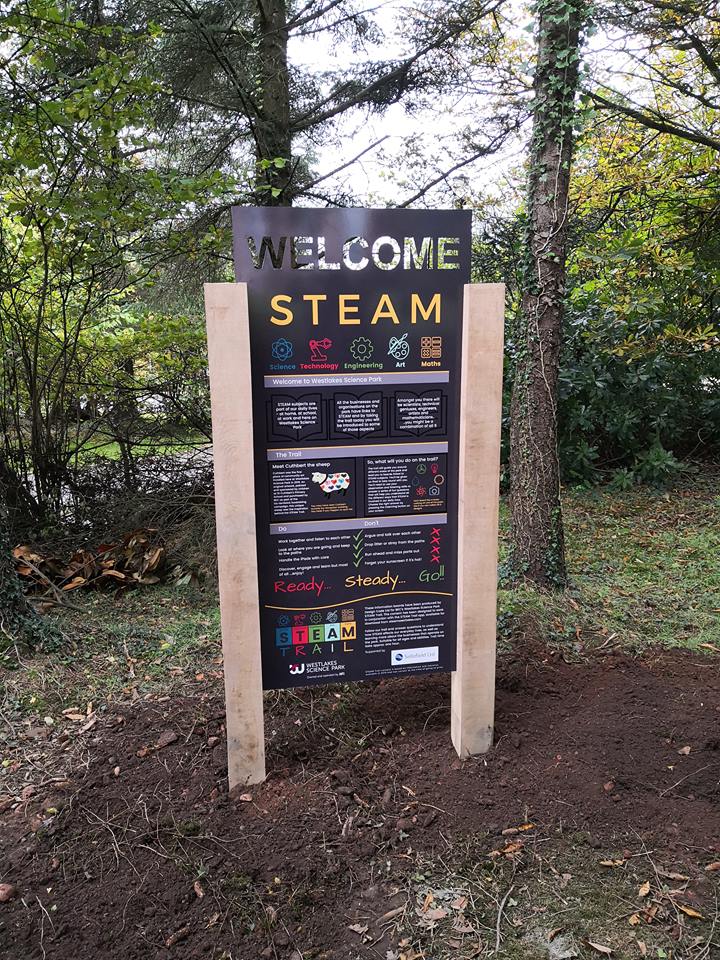 18th Jan 2019: Local youngsters have a new opportunity to get interactive with a new physical and digital trail at Westlakes Science Park.
The trail, opening today, will provide a valuable, curriculum focused destination for local schools at Key Stage 2 and 3 level (7-13 years) and feature knowledge boards on topics ranging from photography to solar energy, together with a specialised app to encourage learning via digital platforms.  While dedicated school visits will use a suite of iPads with the app pre-loaded, members of the public and those home schooling can also download it and enjoy the trail.
The activity, which blends outdoor education with digital learning has been designed to give youngsters an understanding of how STEAM subjects are part of our daily lives and how they are represented within the organisations that are located on Westlakes Science Park. The STEAM trail, designed by Design Code working with Rachel Suddart, also encourages students to explore the integral links between the arts and traditionally promoted STEM subjects.
The trail was inspired by Cuthbert the Sheep, an original artwork that was painted and sponsored by children at St Cuthbert's Primary School, and purchased by BEC, the owners and operators of Westlakes Science Park, as part of the Go Herdwick fundraising campaign for the Calvert Trust in 2016.
"We have fantastic surroundings here at Westlakes and have always been keen to make more of the paths and trails in the grounds with art installations. Cuthbert was intended as the first installation and her school-children led artwork of natural science prompted us to expand our plans for a nature trail into a STEAM trail to champion the importance of the arts and creativity mixed with STEM," commented BEC CEO Michael Pemberton. "We believe that tomorrow's scientists and engineers who will work at Westlakes need creativity and artistic understanding to solve the challenges of tomorrow's world. Cuts to arts programmes in schools across the country are threatening this and we wanted to offer up a positive solution for our local children."
Lakes College's pupils have also been benefiting from the trail before it opens, with a unique preview of the app, built by Cumbria's Designworks, and associated training session in digital skills.
The trail is also intended to boost visibility for employers on Westlakes to future employees and encourage more young people into STEAM activities and has been supported significantly by Sellafield Ltd.
Stuart McCourt, Education, Community and Development Lead for Sellafield Ltd's Social Impact Team explained his reasons for getting involved: "We wanted to help create a unique and inspiring asset for primary school students which complements their school work by giving their teachers a different environment to reinforce their curriculum learning through real world examples. The STEAM trail at Westlakes Science Park is ideal as there is a really inspiring mix of innovative organisations working with cutting edge technology surrounded by a stunning natural environment so there will be something in it which will appeal to everyone. It also had the added benefit with students at Lakes College putting their digital skills to good use during the development of the app and they will get to see something which they helped create being used within their community."
Adam Phillips, Energy & Community Officer at BEC added: "We have created a fun and educational trail, combining arts, science and the great outdoors. The addition of an interactive app has resulted in a user-friendly experience for students to explore and enjoy. We have linked the content to KS2 so lots of it should already be familiar to many young people and the app includes questions that help them engage further."
More information for the trail can be found at https://steamwestlakes.com/ where the app and a dedicated classroom pack can be downloaded, complete with questions and discussion points to encourage independent thinking, debate and follow up activities back in the home or classroom.
Larger school groups can book a dedicated trip on Fridays by emailing info@discoverbec.com. Families and home-schooled pupils don't need to book but are encouraged to read the information on the website before visiting.
A geocaching trail has also been established on the site by Ellen Wildig of Jacobs – leader of the Beckermet Rainbows for Girlguiding UK . For more information visit geocaching.com
Development of the trail has been further supported by: The University of Manchester's Dalton Cumbrian Facility, University of Central Lancashire (UCLan), Ellen Wildig of Jacobs and Luke Richardson of Primary Business Partnership.