BEC to host Reboot integrated social value programme.
BEC is hosting an innovative new project to improve the lives and prospects of local residents.  Reboot was created as a response to tackle social and economic issues in the area highlighted by the Covid-19 pandemic.
Reboot is a unique integrated social value programme of Priority Projects bringing private and public sectors together to deliver greater social value to West Cumbria.
The Reboot objectives align with our purpose and values and we are delighted to be hosting Reboot on behalf of and with our partners to improve the lives of residents in our local community.
Both BEC and Reboot are incredibly passionate about making long lasting change and are looking forward to embarking on this exciting journey together.
Watch the introductory video about Reboot here.
Michael Pemberton, Chief Executive for BEC said: "The alignment between our values and strategic outcomes and Reboot mission is excellent. We know that partnerships between the public and private sector are incredibly powerful in delivering lasting value for the community and we are delighted to be collaborating with Reboot to deliver maximum social value for our local area."
Using an Integrated Programme approach, Reboot helps projects identify resource gaps in the delivery of those priority projects.
Copeland's nuclear sector businesses who have successfully secured publicly funded contracts are bound by procurement legislation to give back to their communities. Reboot provides a way to fulfil those responsibilities to create better futures and places.
By working with the major nuclear organisations in the area and their supply chain partners, Reboot will be able to access the specialist skills and knowledge within the nuclear sector to aid the delivery of these priority projects. Support can range from providing professional services or materials as well as financial contributions and is scalable to the size and skills base of the organisation.
As Sellafield Ltd.'s Social Impact Strategy (known as SiX) is informed by the Reboot Integrated Programme, the Sellafield Ltd supply chain can be confident that by supporting Reboot they are aligned to Sellafield Ltd expectations in terms of social value in Copeland.
Reboot provides recognition of this support from the supply chain organisations through the provision of case studies which can then be used when competing for future work. Reboot also acknowledge support through the website and any marketing materials.
For more information on the Reboot programme and to get involved, email info@rebootcopeland.org or visit www.discoverbec.com/reboot.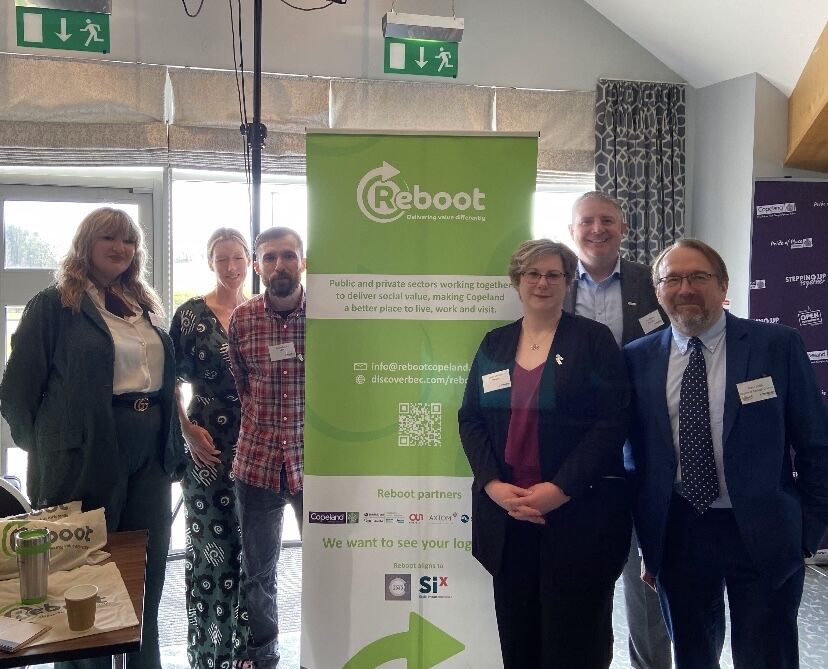 Claire Morfoot, Reboot Programme Manager said: "Reboot were delighted when BEC agreed to host us. Our beliefs and values are closely aligned due to the desire to create sustainable value and positive change for our local communities. Reboot has a unique opportunity to focus the social value contributions of the nuclear supply chain towards projects creating the biggest change and with the support of BEC we now have the necessary infrastructure to allow the Programme to grow and react to the changing needs of our communities."