Students become BEC consultants to develop sound lab project
Students at St Benedict's Catholic High School in Whitehaven have been enlisted as BEC consultants on a genuine live project as part of a trailblazing project to create new leaders.
The 10 students formed project teams, spending five days at the Eagle Labs Cumbria based in The Bus Station on Bransty Row in Whitehaven where they were tasked with developing a real BEC project to turn an empty building into a community sound lab and event space that will be managed and run by used by the music charity, Soundwave on BEC's behalf.
The consultants – given a £500,000 budget – were challenged to consider all aspects ranging from finance and design to marketing and safety holding various workshops and briefings with industry experts before two teams made a final presentation to BEC officials including Chief Executive, Michael Pemberton; Head of Developments, Stephen Holland; and Director of Finance and Support Services, Gemma Leadbetter together with David Roberts and Emma Dockray from Soundwave.
The genuine hands-on assignment was part of the ProjX Work Awareness Programme.
Funded by Sellafield Ltd, it is managed and delivered by the Centre for Leadership Performance (CforLP), a not-for-profit leadership development company working to develop leaders in Cumbria.
The ProjX programme enables young people to explore a range of interests whilst working collaboratively with several business professionals and industry experts from across West Cumbria, from large organisations to SMEs, business owners and microbusinesses.
The programme provides students with an opportunity to develop a range of leadership skills.
It also provides opportunities for employers to seek young people's views and BEC will feed the points and ideas raised in the presentations into its community sound lab and event space blueprint.
ProjX is open to year 10 students from secondary schools in West Cumbria.
Stephen Holland, BEC's Head of Developments said: "This is a real live project, they were given a brief by BEC and Soundwave as to the project requirements, and I was blown away by the professionalism shown by the students whose fantastic suggestions and pitches will help shape the blueprint for the sound lab project."
Workshops ahead of the presentation included on Thursday when representatives of the two teams talked through their ideas and were given expert business and pr advice from a panel comprising media advisor and comedian Ben Turner (not pictured) and below from left with the students: Disruptieve digital entrepreneur Andrea Winders; Chris Theobold, Chair of the Board at the Centre for Leadership Performance and John McCallister, Ecosystem Manager at Barclays Eagle Labs.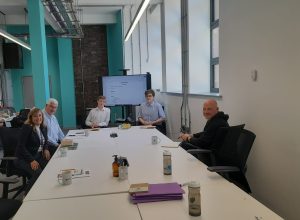 Other sessions were delivered by KBR, Soundwave, Responsive Training Services Ltd, National Nuclear Laboratory, pladis Global, Barclays Eagle Labs and Platinum Live.