BEC announce contract with local firm to develop artisan food & beverage offering in Cumbria's flagship digital and creative hub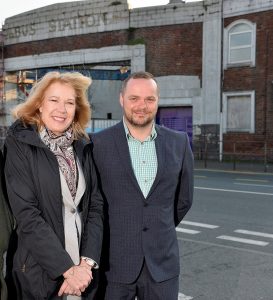 L-R Lucinda Brown Director at Osprey, Craig Lowery Director of Operations at Osprey (Picture courtesy of in-cumbria.com)
 6th March 2019: BEC, the property developers behind North Shore, has announced a partnership with local food and beverage firm Osprey Management Group for the Buzz Station, Cumbria's forthcoming digital and creative hub.
The creative economies are growing rapidly, and The Buzz Station will be a place where fledgling creative, digital and innovative firms can grow and compete on the national stage. At the heart of the building will be a stylish public eatery that sets the tone for the whole building.
Osprey currently manage the Galloping Horse and The Briery in Cumbria. Its incredible commitment to food provenance and dedication to creating not just great food, but a great vibe, at The Buzz Station has set them apart as an operator.
"BEC's North Shore development revives neglected places," commented Michael Pemberton, BEC's CEO. "Craig Lowery and the team at Osprey have taken a similar approach to developments, choosing places that need to be revised and returned to the communities that house them, providing leisure spaces for society to thrive and supporting employment opportunities on the coast of Cumbria. BEC selects its partners based on matching values, and Osprey's motto of 'Always Among Friends' really struck a chord with me and the team."
BEC have a target opening date of Q4 2019 for the Buzz Station, and when complete the main dining area will be a buzzing environment serving great food and drinks in a bold, dynamic designed space.
Craig Lowery, Director of Operations at Osprey Management Group expanded on the plans: "We envisage The Buzz Station to be a unique proposition to the local area, there will be a cafe bar which will serve breakfast, coffee and light lunches during the day. It will be an ideal area to relax after a shopping trip or for an informal meeting with colleagues. As the evening approaches the bar will transform – and flat whites will be replaced with great food, craft ales and inventive cocktails."
Delivering the best of local foods with impeccable standards of taste and provenance has been crucial to planning around The Buzz Station.
Craig continued: "It will showcase the amazing artisan food and drink products available in the county. Fresh, locally sourced, sustainable foods will become the foundation of the menus. It is our intention to serve fresh fish landed in Whitehaven and some of the fabulous meat and dairy produce from local farms, we are always looking for local suppliers."
Osprey and BEC are making a call for potential suppliers and makers of amazing local products to come and speak with them.
Head of property and development at BEC, Rob Miller added: "Food innovation will be key at The Buzz Station, and the £4.1m scheme will also act as a hothouse for tech, digital, media, and creative start-ups."
Sellafield Ltd is investing £2.6m to assist the conversion as part of Sellafield Ltd's Transformation Programme, which seeks to leverage public and private sector investment to help grow and diversify the west Cumbrian economy.
The wider North Shore scheme is being brought forward by BEC, with the help of partners including Copeland Borough Council and Whitehaven Harbour Commissioners. It proposes a 4* hotel, multi-story car park facility and circa 75,000 sq ft office development that will sit alongside the Buzz Station. Road upgrades plans are also ongoing in partnership with Cumbria County Council. BEC also aims for Whitehaven's harbour front to become a beacon for sustainable development as it strives to be zero-net-carbon (ZNC).